Hive Energy & Green Ammonia
Hive Hydrogen SA is paving the way to a sustainable future by developing innovative green ammonia projects around the globe.
Hive Hydrogen South Africa is backed by Hive Energy and Built Africa. The team has been operating since September 2019. Hive Hydrogen SA is establishing five large scale Hydrogen and Ammonia plants in South Africa, powered by 15 GW of renewable energy. In 2021 we announced the establishment of a $4.6bn Green Ammonia Plant. The plant will have a dedicated power supply at the Coega Special Economic Zone, alongside the Port of Ngqura.
There is a massive surge in demand for ammonia globally to meet current agricultural, chemical, and mining requirements. Furthermore, Green Ammonia is expected to become the chosen fuel in the maritime industry. Because of the changes in the renewable energy sector, now is the perfect time to invest in this commodity.
Southern Africa is one of a few regions around the world with very favourable conditions for green hydrogen and ammonia production and export. South Africa has world-class renewable resources, good harbours, and a high standard of local skills. Because of these features, it is the ideal location for green hydrogen and green ammonia plants. Based in Nelson Mandela Bay, the plant will produce 900,000 tons of green ammonia a year. Green ammonia produced in SA will be exported to world markets. The export list will include the Far East, Europe, and the USA.
Green Ammonia & Fossil Fuels
Across the globe, green energy is driving the net-zero movement.
Renewable energy is favourable because it provides the cleanest and lowest-cost power source. As fossil fuels are phased out, green hydrogen will become the world's go-to green fuel. 
Green ammonia is produced from the sea or freshwater and uses electrolysis (powered by renewable energy). Production of a large volume of green hydrogen, in combination with green hydrogen storage, will provide long term seasonal flexibility and bring stability and certainty to the global fuel supply system.
In contrast, brown ammonia production accounts for almost 1.5% of the world's CO2 emissions. Production of green ammonia underpins the case for green hydrogen production to enable a sustainable supply.
Colin Loubser
Director Middle East, Africa, I.O
Thulani Gcabashe
Director - Built Africa
John Nutt
Technical Director
Tristan Nel
Projects Assistant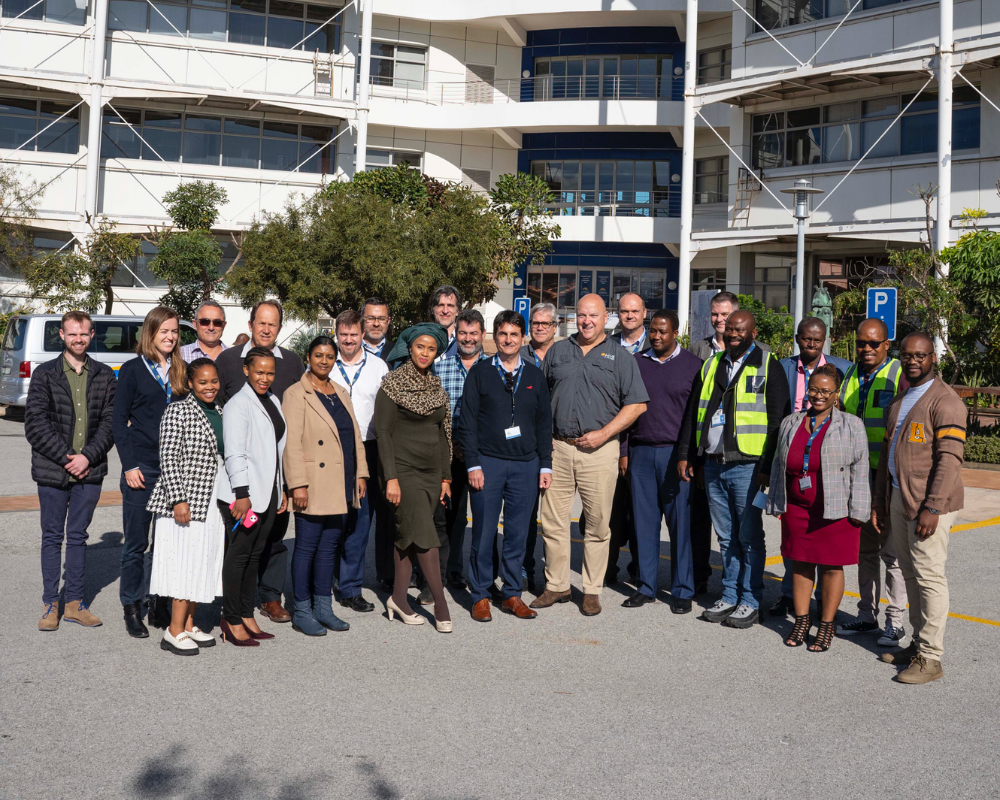 Hive's Coega green ammonia plant
In December 2021 we announced our plans to create one of the world's largest green ammonia plants in Nelson Mandela Bay, South Africa. 
Working alongside Built Africa we are developing large scale hydrogen and ammonia plants across South Africa, powered by renewable energy. Following COP26 and mounting global pressure to reduce fossil fuel use, we are going to leverage our renewable energy expertise to develop green ammonia across the globe. The Hive site is located in Coega, Nelson Mandela Bay.
It is a rare site as it is operating in a deep-water harbour with available berths, liquid bulk storage and shipping capability, large-scale on-site power generation capacity, water availability, large capacity grid connections for power wheeling, and defined and permitted servitudes, as well as skilled local contractors. We have local land secured close to the plant for the establishment of a solar farm with a capacity of up to 1,000 MW. Once complete, the solar farm will be the largest PV park in South Africa. Our goal is to pave the way for environmental best practice in South Africa with this development.